We have been quiet over at Racing Chance HQ for a while now, although we have been continuing to work behind the scenes to keep the momentum building towards equality for women in cycling. The pandemic has impacted upon most people wherever they may be, and cycling has been no different. The reduction in events gave us time to reassess our positioning and we believe that we have a vision that is fit for a post-pandemic world.
Background
When the charity was initially incorporated back in 2014, there were limited opportunities for women to progress their cycling careers – in the UK at least, it was very difficult to break into the elite level unless you had existing links or you were on a national squad (GB, Scotland, Wales). The pathway at British Cycling was fashioned on the men's sport, with limited opportunities for women to progress up the ranks to reach first or elite category. We saw that our role at Racing Chance was to help women to access opportunities at the appropriate levels, whether that was at a grassroots level (where we ran race training sessions with some great guest coaches) up to sending teams to UCI level races, including the Ladies Tour of Norway and The Tour of the Ardeche. We helped a number of riders to access the UCI level, including Hayley Simmonds, Alice Cobb, Chloe Fraser, and Ireland's Kelly Murphy. We even managed to win a stage of the Ardeche with our guest road captain, the then Swiss National Champion, Doris Schweizer.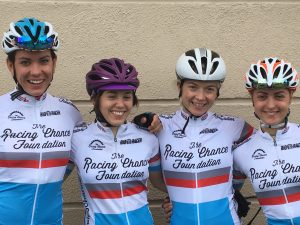 Since then, the sport has opened up with opportunities at different levels – the Women's Tour, the Rayner Foundation starting to support female riders as well as male riders in their quest to race abroad, and the Great Britain Cycling Team have also changed their view, bringing in road riders to represent GB, whether at a junior or senior level, and whilst it still is sometimes a case of "who you know", the sport is much more open than it used to be.
In addition, the women's race scene has also improved – back in 2013, the opportunities to compete in a road race were very limited, whereas now there is a competitive National Series for women, as well as opportunities for those below national level. We did see a spike in the number of races which had a negative impact (that's another story) but the scene seems to be settling down now and maturing. That coincides with a move to bring in the same licence category structure for female riders that the male riders have had for years, again meaning that women can now access second category and beyond without having to win 40 races a year!
All change
For that reason, we believe that women's cycling has reached a point where there is a need to look at supporting the sport as a whole, rather than focusing on specific individuals or teams. Since our incorporation, we have helped coach over 500 women at race training sessions and have seen the sport evolve. Being involved in some of the major changes that have happened with women's cycling in the last 10 years has taught us a number of things, and it is those things that we believe the Racing Chance Foundation as a charity should now focus our energy. With this in mind, we have set a new vision, which is as follows:
Empowerment
Over the years, we have found that women often lack the confidence needed to become the best that they can be. In particular, our experience has been that women need affirmation before they are willing to take the next step, whether that is starting their competitive cycling career, taking on a governance role or starting out on their volunteer journey.
Our aim is to help women find their confidence by providing a support network for them. We aim to signpost women to people and groups who share our objectives around women's cycling, whilst at the same time building a network of likeminded people who are willing to support others on their respective journeys.
Enabling
Once someone is empowered, the next step is to ensure that they can unlock the appropriate opportunities for development.
We aim to help create those opportunities by supporting others to do so.
Engagement
Unless we engage with the different people involved within women's cycling, the opportunities will be limited. We have been working with cycling clubs and organisers for a number of years, and we will continue to do so, to ensure that the women's sport continues to develop.
By sharing details of events (training and racing), the community aspect of the sport can develop, leading to more opportunities, more empowerment and, hopefully, an increase in the number of women involved.
What does this mean?
Like any start-up (which women's cycling is, in effect), women's cycling will only takes it rightful place beside the male side of the sport if it can grow in a measured, structured way. That means that we need to increase the number of people who are involved in women's cycling, whether that is as a rider, or a volunteer, by giving them support, advice and guidance to help them feel confident enough to get involved (empowerment). We need to make sure that those people can access appropriate opportunities in a supportive environment so that they can develop their skills (enabling) but we can only do that by increasing the number of people who are involved which will be done by helping to build a bigger community (engagement).
Interested? #GetInvolved
If this resonates with you, please feel free to follow us on Facebook, Twitter and Instagram. We run a number of Facebook groups aimed at improving engagement among people who might not otherwise connect. In addition, we are a cycling club that is affiliated to British Cycling and Cycling Time Trials and we charge £5 a year to join – we have lots of second claim members – which also means that you can race for us rather than as a private member.
We will end this article with this final comment – women's cycling needs volunteers as much as it needs riders – what one thing could you do to help women's cycling to grow? If 1,000 people each committed to help out at one event every year, that is a lot of people.